Deb Morgan, CMT, was born and raised in Albert Lea, Minnesota. I am a 2001 graduate of the Sister Rosalind Gefre School of Professional Massage, Rochester, MN Campus. I have completed 665 hours of a 650-hour program, where I received my certification of Professional Massage Therapy. I am a member of Associated Bodywork Massage Professionals (ABMP). I am an ABMP Certified Massage Therapist. ABMP Certified Massage Therapists are required to receive 16 hours of Continuing Education Units (CEU) every two years.
Along with my business I have a ministry called Comfort Touch Ministry which is massage related.
Massage is a valuable aspect of complementary health care that can be used safely and effectively in a wide variety of settings, including hospices, nursing homes, home care and long-term care facilities. While it can be used to ease the physical and emotional pains of the elderly, it can also enhance the quality of life for anyone in need of a caring touch. When you touch someone with the intention to offer comfort, and to offer support, it does make a difference.
Chair Massage makes a great addition to your group events, including retreats, staff appreciation day, family reunions, birthday and anniversary celebrations. For a Free Will Donation to Comfort Touch Ministry I will provide chair massage for your special event.
Photos of my office
Waiting Area
The Chi Machine Area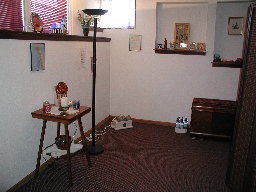 The Chi Machine Area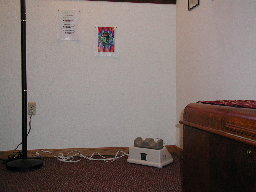 Massage Area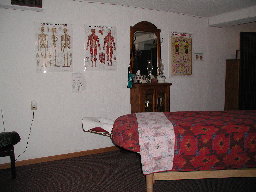 Desk Area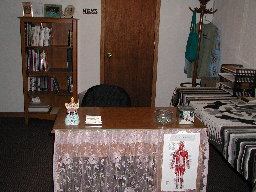 Desk Area